Menu
At DANIELAS by Barock we have something for everyone, all day long, from breakfast to evening parties. 
Every day we prepare meals for you from fresh and superior ingredients. Taste one of the great dishes, enjoy the main course and end your lunch or dinner with an irresistible sweet spot.
We also offer real specialities that you will fall in love with. Enjoy a lobster cocktail or oysters with shallot vinegar.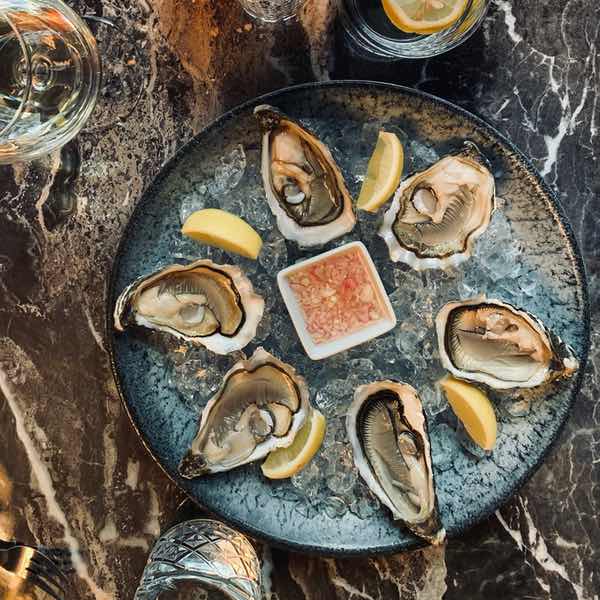 Beef tartar, fried capers, bread chips
295,-
Foie gras, apples and salty caramel
295,-
Cauliflower, roasted in spices, curry vinaigrette, mint and Dukkah sauce
245,-
Grilled Tiger Prawns, chili pineapple mango chutney
295,-
Seared Tuna Tataki, red peppers, honey, lemon
315,-
Antipasti, lomo and chorizo Iberico, Corsican Lonzu, Pata Negra ham, Comté and Pecorino cheese
325,-
Cod, confit sous vide with lemon, Beurre Blanc and artichoke puree
495,-
Grilled Octopus, chili, cappers, shallots
415,-
Spicy Tom Yum Soup, with seafood, vegetables and glass noodles / vegetarian option available
385,- / 325,-
Lamb chops, lightly smoked eggplant, Tahini, salad, balsamic vinegar, chimichurri sauce
545,-
Beef Rib eye, Béarnaise sauce, shallot red wine confit
545,-
Oysters with shallot vinaigrette
mp.
Caviar w./ blinis and crème fraîche
mp.
Shaved black Truffle
mp.
Lobster 1⁄2 or whole
Poached or grilled with linguine, orange bisque
mp.
Linguine with orange bisque 95,- / Basmati rice 95,
Sautéed vegetables 95,- / Potatoe puree 95,-
French fries 95,- / Arugula salad 95,-
Amadeus
Chocolate corpus and delicious truffle mascarpone cream with hints of coffee, honey and cinnamon.
145 Kč
Carrot cake
Corpus of carrots, cane sugar and nuts. Delicious cream of Philadelphia cheese and white chocolate.
145 Kč
New York Cheesecake
Philadelphia cream cheese dessert on a corpus of crushed cocoa biscuits, decorated with wild berries and white chocolate flakes.
145 Kč
Macaroons 
Handmade French delicacy crunchy on the surface and delicate inside. (raspberry, pistachio, choco-passion, lemon, caramel, choco-raspberry, hazelnut)
65 Kč
Brownies
Crispy chocolate dessert made of 71% chocolate, enriched with hazelnuts and fragments of white chocolate (with ice cream and raspberry sauce)
155 Kč
Petit four
Two chocolate pralines and one macaroon of your choice
145 Kč
Homemade ice cream and sorbet
selestion chocolate, vanilla, pistachios, mango, raspberry, 3 scoops
195 Kč
Fresh fruit plate
195 Kč