Menu
At DANIELAS by Barock we have something for everyone, all day long, from breakfast to evening parties. 
Every day we prepare meals for you from fresh and superior ingredients. Taste one of the great dishes, enjoy the main course and end your lunch or dinner with an irresistible sweet spot.
We also offer real specialities that you will fall in love with. Enjoy a lobster cocktail or oysters with shallot vinegar.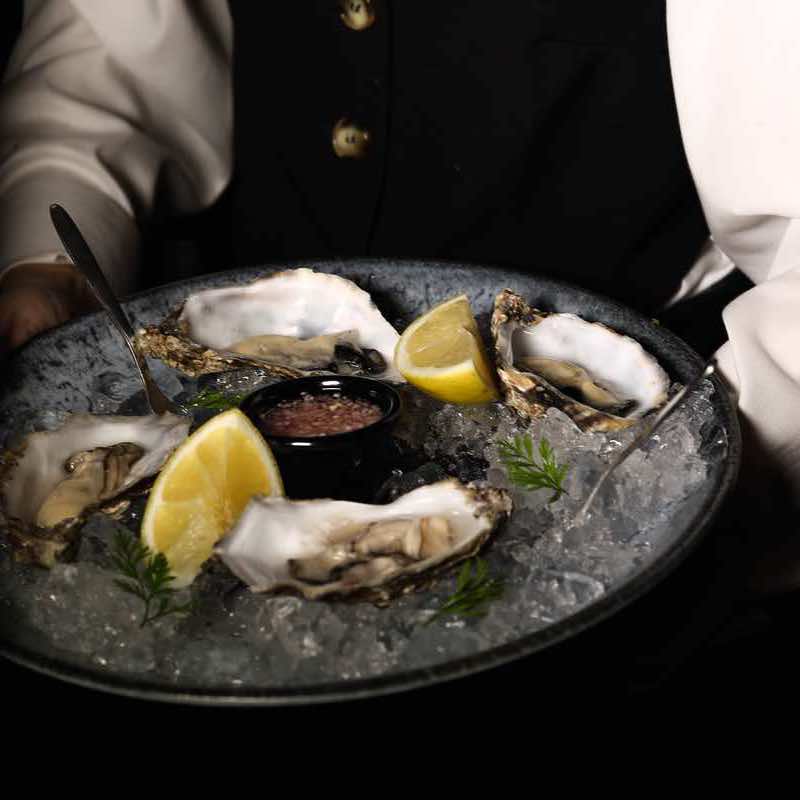 STARTERS – PERFECT TO SHARE
Pil – pil prawns
Panfried prawns in white wine sauce with chilli,
with tomatoes served with our foccacia
295 CZK
Salmon sashimi
Thin slices of Froya salmon with caperberries, cucumber
and citrus créme fraiche with horseradish
315 CZK
*Recommended with Calvisius Tradition Caviar +130 CZK
Surf & Turf
Prawn cracker with beef tataki & sweet chilli lobster
345 CZK
Barock Ribs
Overnight cooked baby pork ribs with pickled cabbage and BBQ sauce
305 CZK

Albodigas meatballs
In rich tomato sauce with fresh herbs
275 CZK
Antipasti platter
Selection of cheeses from Krasolesí dairy farm with chutney, chorizo & parma ham with crackers
415 CZK
Roasted Padrone peppers
With Fresh cheese & Hazelnuts
255 CZK

Peruvian sea bass Ceviche
With leche de tigre salsa, popcorn and tortilla chips
375 CZK
*Recommended with Calvisius Tradition Caviar +130 CZK

Grilled octopus
with Chorizo & Bean Cassoulet, Avocado cream & Black olive crumb
645 CZK
Norwegian Froya salmon
with wasabi infused pea puree, crispy rice cake & pomegranate
625 CZK
Fresh Lobster Linquine pasta
with roasted tomato sauce, cured egg yolk and fresh herbs
765 CZK
Chuleta 1kg Rib eye steak from San Sebastian
Served with Chimmichuri salsa and grilled seasonal vegetables
2 650 CZK
Fillet mignon 250g Carnicas Luismi from San Sebastian
Chimmichuri salsa and seasonal grilled vegetables
1 495 CZK
Pulled confit of duck leg
In iceberg lettuce taco, Gochujang mayonaise, pickled silverskin onion, cucumber, sesame seeds and coriander
565 CZK
Cauliflower vegan tempura Tacos
with Guacamole, Teriyaki sauce and chilli
495 CZK
Wilted tenderstem broccoli with toasted almonds & fresh chilli
Roasted new potatoes with black salt butter and herbs
Grilled seasonal vegetables
Side salad with pomegranate seeds
Korean Kimchi
Fries OR Sweet potatoes fries
145 CZK
WE ALSO OFFER A WEEKLY LUNCH MENU. YOU CAN FIND OUR MENU ON INSTAGRAM
*Please ask your waiter for allergy information