Wine menu
In case you love a good wine, just like us, you will certainly enjoy our wide selection of wines of the highest quality. Enjoy the atmosphere of picturesque Prague with a glass in your hand.
Taste wines from famous wine regions and the best wineries. We have something for you from everything. Fresh white wines, fine rosé wines or more sophisticated red wines.
We also offer several types of champagne, in particular the popular Moët & Chandon and Dom Pérignon.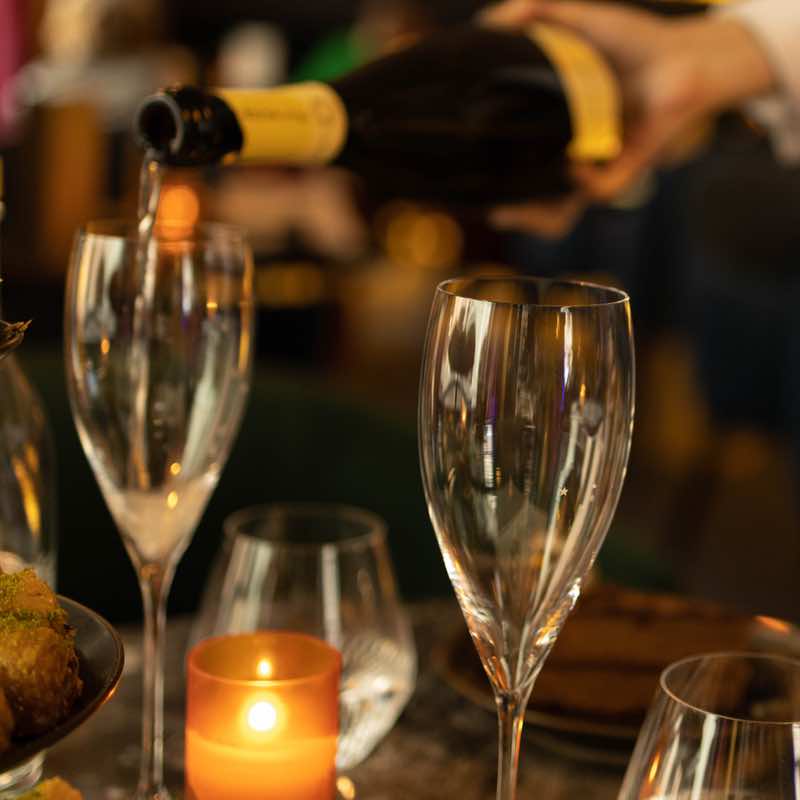 Sparkling wine & Champagne 0,1l
Cuveé Leonie Brut
Canard-Duchéne / Champagne / France
345 CZK
Crémant de Limoux Brut Rosé
 Limoux / France
170 CZK
Prosecco Porta Monticano
Zadretto / Veneto / Italy
135 CZK
Grand Cuvée Extra Brut/Blanc de Blanc/Rosé brut
Villa Valtice / Czech republic
145 CZK
White wine 0,15l
Pálava
 Villa Valtice / CZE
185 CZK
Ryzlink Vlašský
 Filip Mlýnek / Mikulov / CZE
215 CZK
Riesling Ruppersberger Kabinett
Kimich / Pfalz / Germany
215 CZK
Grüner Veltliner Federspiler
 Högl / Wachau / Austria
225 CZK
Pinot Grigio
 Livon / Friulli / Italy
235 CZK
Chablis la Part de Anges
Grossot / Bourgougne / France
355 CZK
Rosé wine 0,15l
Rosé Pinot Noir
 Villa Valtice / CZE
165 CZK
Chateau Minuty
M de Minuty / Provence / France
295 CZK
Rosé Chiaretto Bardolino
Cavalchina / Veneto / Italy
175 CZK
Red wine 0,15l
Gryllus
 Špalek / Znojmo / CZE
245 CZK
Pinot Noir
Auer / Thermenregion / Austria
255 CZK
Primitivo di Manduria
 Lirica / Puglia / Italy
245 CZK
Marques de Riscal
Reserva / Rioja / Spain
315 CZK
Cabarnet Sauvignon
Bogle / California / USA
275 CZK
Malbec 1300
 Andeluna / Mendoza / Argentina
245 CZK
White wine
Pálava
Villa Valtice / Valtice/CZE
855 CZK
Ryzlink Vlašský 
Filip Mlýnek / Mikulov / CZE
955 CZK
Pinot Grigio Collio
Livon / Friuli / Italy
1 035 CZK
Riesling Ruppertsberger Kabinett
Kimich / Pfalz / Germany
945 CZK
Riesling Rudesheim
Bischofliches Weingut / Rheingau / Germany
1 245 CZK
Grüner Veltliner Federspiel
Högl / Wachau / Austria
1 195 CZK
Grüner Veltliner Smaragd Terrassen
Rudi Pichler / Wachau / Austria
1 995 CZK
Sancerre
Chatelain / Loire / France
1 495 CZK
Chablis La Part de Anges
Grossot / Bourgogne / France
1 725 CZK
Sauvignon Blanc
Villa Maria / Marlborough / New Zealand
1 995 CZK
Rosé wine
Rosé Pinot noir polosuché
Villa Valtice / Valtice / CZE
755 CZK
Rosé Chiaretto Bardolino
Cavalchina / Veneto / Italy
795 CZK
Rosé M de Minuty
Chateau Minuty / Provence / France
1 405 CZK
Red wine
Cuvée Gryllus
Špalek / Znojmo / CZE
1 195 CZK
Pinot Noir
Auer / Thermenregion / Austria
1 155 CZK
Rosso di Montalcino
Querceta / Toscana / Italy
 1 245 CZK
Primitivo di Manduria Lirica
Produttori Manduria Vini / Puglia / Italy
1 090 CZK
Amarone della Valpolicella Classico
Tommasi / Veneto / Italy
2 905 CZK
Chianti Classico Riserva
Antinori / Toscana / Italy
1 565 CZK
Brunello di Montalcino
Lisini / Toscana / Italy
2 690 CZK
Barolo Arborina
Corino / Piemonte / Italy
3 195 CZK
Rioja Reserva
Marques de Riscal / Rioja / Spain
1 495 CZK
Reserva Expresion
Resalte / Ribera del Duero / Spain
1 990 CZK
Chateauneuf du Pape Rouge
Chateau Maucoil / Rhone / France
2 345 CZK
Pommard
Lescure Chantal / Bourgogne / France
2 950 CZK
Chateau Pierre 1er (Grand Cru)
Saint-Emilion / Bordeaux / France
1 995 CZK
Cabernet Sauvignon
Bogle / California / USA
1 295 CZK
Malbec 1300
Andeluna / Mendoza / Argentina
1 095 CZK
Chablis Grand Cru Bougros
William Fevre / Bourgogne / France
4 550 CZK
Meursault
Chantal Lescure / Bourgogne / France
2 950 CZK
Tignanello
Tenuta Tignanello / Toscana/ Italy
6 495 CZK
Sassicaia
Tenuta San Guido / Toscana / Italy
8 995 CZK
Barbaresco
Gaia / Piemonte / Italy
9 895 CZK
Chateau Rouget
Pomerol / Bordeaux / France
3 615 CZK
Chateau d'Issan (Grand Cru)
Margaux / Bordeaux / France
4 090 CZK
Chateau Talbot (Grand Cru)
Saint Julien / Bordeaux / France
6 295 CZK
Chateau Lafon-Rochet (Grand Cru)
Saint-Estephe / Bordeaux / France
 3 140 CZK
Chateau Grand Puy Lacoste (Grand Cru)
Pauillac / Bordeaux / France
5 640 CZK
Sparkling wines & Champagne
Moët & Chandon  Champagne Brut Rosé
Moët & Chandon / France
2 950 CZK
Champagne Cuvée Leonie Brut
Canard-Duchene / France
2 375 CZK
Veuve Cliquot Champagne Brut
Veuve Cliquot Ponsardin / France
2 490 CZK
Dom Pérignon Blanc Champagne Brut
Dom Pérignon / France
6 950 CZK
Ruinart Blanc de Blancs Champagne Brut
Ruinart / France
3 900 CZK
Champagne Cuvée Leonie Brut Rosé
Canard-Duchene / France
2 850 CZK
Crémant de limoux Brut
B.B. Bouché / France
1 095 CZK
Crémant de Limoux Brut Rosé
B.B. Bouché / France
1 195 CZK
Prosecco Porta Monticano
Zardetto / Italy
 995 CZK
Villa Valtice Blanc de Blanc / Rosé Brut / Extra Brut
Valtice / CZE
895 CZK